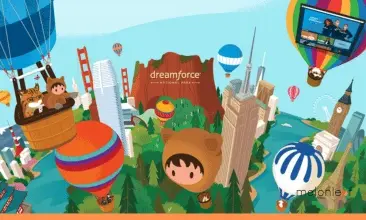 Dreamforce is a worldwide annual event commemorated to connect the Salesforce community on a collaborated platform. At this event, many Salesforce users share their experiences & ideas and also learn new things about Salesforce products and services.

Salesforce celebrates this occasion by announcing and launching multiple Salesforce products to their audience every year. Following this tradition by delighting customers of different organizations to maximize their business productivity, Dreamforce became a global event for Salesforce Users.

It was held on September'21, and the whole event gets celebrated by networking, long productive sessions, and entertainment among the Salesforce community globally.
Here, we will discuss the top highlights of this Gala event.

Salesforce announced Trusted Enterprise Playbook:
In this pandemic situation, where everything is happening remotely, everyone is hassling to make the right choice for doing business with trusted enterprises. This Trusted Enterprise Playbook offers a platform for the customers to know who to trust. Also, enable enterprises to use cutting-edge technology in many best ways possible.
Salesforce unveiled Health Cloud 2.0:
Salesforce announced the launching of Health Cloud 2.0, for empowering businesses digitally. This Health Cloud 2.0 will facilitate healthcare solutions like vaccination management, smooth contact tracing, etc. Moreover, it will provide seamless workflow among healthcare communities and their customers.
Utilization of Flow Builder Automation:
Salesforce announced that workflow and process builder will get retired. Only changes can be done in these existing processes and workflows, but the creation of new ones is restricted. Now, the Salesforce Admins will leverage the upgraded feature "Flow Builder" to automate the low-code apps in the Salesforce environment.
Launch of Salesforce Sustainability Cloud 2.0:
Salesforce unveiled its Sustainability Cloud 2.0, to encourage enterprises and organizations to take initiatives for becoming net-zero companies. This Sustainability Cloud 2.0 is an environmental-friendly solution for many organizations to remove their carbon footprint.
Announcement of becoming a net-zero company:
Salesforce announced that it became a net-zero carbon-emitting business illustrating its commitment to fighting climate change. The whole Salesforce business is now driven by power originating from all renewable resources.
Slack "Your Digital HQ":
Salesforce announced the various updated Slack features and functionalities. Also, presented an explanation of how Slack integration with Salesforce products will expand your workspace capabilities.
Salesforce Backup and Restore:
Salesforce introduced its Salesforce Backup and Store tool to help customers by getting rid of the tedious and time taking processes of maintaining data and recovering its backup. But now with a single click, anyone can automate their backup and restore their data in Salesforce org instantly & smartly.
Manage Business Data with Hyperforce and Salesforce CDP:

Salesforce's experts described how Hyperforce and Salesforce CDP are helping organizations empower their business by dealing with 5Vs of business data. Where 5Vs are for Data Variety, Data Velocity, Data Veracity, Data Volume & Data Value. They said Hyperforce & Salesforce CDP allows organizations to manage business data to deliver an enhanced customer experience.
Launching of "Salesforce Functions":
Diminish your IT infrastructure burdens by utilizing a new ingenious solution launched by Salesforce named "Salesforce Functions" for developing FaaS ( Function-as-a-Service) apps.
As you have glimpsed, Dreamforce'21 was an extravagant event to announce many Salesforce products and services for enhancing the productivity of enterprises and optimizing their seamless workflow efficiently and in a progressive way.
About Melonleaf
Melonleaf Consulting is a dedicated Salesforce partner organization that focuses on providing Salesforce solutions to our clients with better efficiency and maximized productivity. Melonleaf offers Salesforce implementation, integration, consultations, and development services with the support of their certified Salesforce professionals to deliver ultimate customer satisfaction.